Blaze Whiskers

Mob(s)

Dominant

No

Date of Birth

February 9, 2000

Parents

Fu Dog and Kronos

Litter-Mate(s)

Fire-Storm, Mizumie and Prowler

Mate(s)

None

Children

None

Known For

Fu Dog's Calm Daughter
Blaze is role played by Aniju Aura.
Blaze
(VWF022)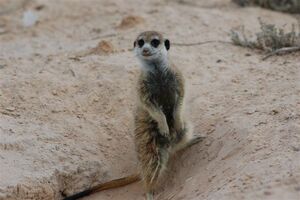 was born on February 9, 2000 in the
Whiskers Mob
. Her mother was
Fu Dog
and her father was
Kronos
the dominant pair of the Whiskers. Her litter-mates were her two brothers
Mizumie
(VWM020) and
Prowler
(VWM021) and one sister
Fire Storm
(VWF023). They were Fu Dog's first litter ever. All four pups survived their first few weeks however the encounter with the
Lazuli
force the Whisker to make a burrow move. During the move the Whiskers were forced to spend the night at a bolt hole where subordinate female
Bee
gave birth. The next day the Whiskers encounter the
Commandos
endangering the lives of Blaze and her siblings. The Whiskers managed to save all four pups and brought them to a new burrow. Sadly Bee's pups were lost to the Commandos. Fu Dog gave birth to four more pups on May 20, 2000 making Blaze and her litter-mates no longer the youngest in the Whiskers. Blaze's sister Fire-Storm became a fiesty juvenile often causing trouble while Blaze remained the more calm and responible one of the two females. Blaze and her litter-mates survived to adulthod without much event. Blaze started to help out with babysitting. She and her brother Mizumie and aunt
Lilly
babysat one of Fu Dog's litters in April 2001 when the Commandos invaded the burrow. Luckily there were three pups and three babysitters, so the three adults carried the pups away to safety. After spending the night away from the mob, Mizumie was able to find the Whiskers and the missing meerkats were re-united soon after. Blaze is still in the Whiskers today.