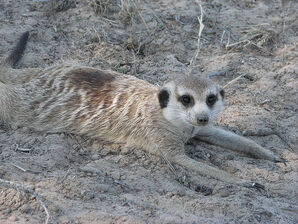 Clarabell
is role played by
Moonstar10
.
Clarabell(VLF023) was born November 4, 1999 in the Lazuli Mob. Her mother was Hattie and her father was Ralph. Her litter-mates were her sister one Cleo(VLF022) and two brothers Cookie(VLM021) and Cactus(VLM020). Her parents were the dominant pair of the Lazuli at the time. Her father soon died of disease and not long after her mother Hattie followed. Clarabell's aunt and uncle Sahara and Subaru took dominance of the Lazuli. Clarabell is still in the Lazuli today at 10 months old.
Mother: Hattie
Father: Ralph
Sister: Cleo
Brothers: Cookie and Cactus
Ad blocker interference detected!
Wikia is a free-to-use site that makes money from advertising. We have a modified experience for viewers using ad blockers

Wikia is not accessible if you've made further modifications. Remove the custom ad blocker rule(s) and the page will load as expected.