Cleo Lazuli

Mob(s)

Dominant

No

Date of Birth

November 4, 1999

Parents

Hattie and Ralph

Litter-Mate(s)

Mate(s)

None

Children

None

Known For

Hattie's daughter
Cloe
is role played by
Aniju Aura
.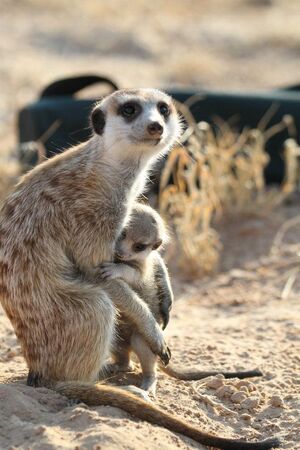 Cleo(VLF022) was born in the Lazuli Mob on November 4, 1999. Her mother was Hattie and her father was Ralph. Her litter-mates were her two brothers named Cactus(VLM020) and Cookie(VLM021) and one sister named Clarabell(VLF023). Her mother had taken over as the new dominant female after Zizus had died while Ralph had joined the group and became the dominant male. Sadly Ralph contracted TB and died soon after Cleo was born. A month later, Cleo's mother Hattie also succumbed to the disease. Cleo's aunt Sahara took over as the new dominant female along with Subaru, her litter-mate brotherm became the dominant male. Cleo and her litter-mates survived however without their mother. Cleo's litter-mate brother Cactus got his food stolen from him by Sahara. Soon Sahara gave birth to five pups but Cleo was too young to help babysit. Cleo and Cookie became afraid to sleep in the Lauzli burrow after the Zappa had raided the burrow. They spent the night in a bolt hole with Subaru. Cleo was often seen following her uncle Padfoot around. The Lazuli had a big group split taking most of the pups. Cleo was in the splinter group along with her brother Cookie and sister Clarabell and most of her older siblings. Cleo and Buttercup were often seen with the pups but neither could feed the pups at the time. Soon the splinter group met up with the main group. A snake had gone down the burrow where the new pups were located so Sahara made a burrow move at night. Cleo stayed behind with the two evicted females, even though she herself was not evicted. She was too young to be evicted. Cleo, Royal and Buttercup were seperated from the group. Royal left the two females so Cleo and Buttercup had to rely on each other. After a few days, the females were able to relocate the new burrow, Padfoot was babysitting that day. Buttercup gave birth at the new burrow. Not long after Cleo reach her first birthday along with her sister and brothers. Cleo started helping out with the pups by babysitting and caring for them. She kept away from the rovers who appeared at the Lazuli looking for females to mate with. Her two brothers started to rove and Clarabell was evicted. In Lat e 2001 her bother Cookie and Custus left with Subaru and most of the eldest males to join the Commandos. Cleo was the last of her litter in the Lazuli. Cleo is still in the Lazuli today.
Mother: Hattie
Father: Ralph
Sister: Clarabell
Brothers: Cactus and Cookie
Ad blocker interference detected!
Wikia is a free-to-use site that makes money from advertising. We have a modified experience for viewers using ad blockers

Wikia is not accessible if you've made further modifications. Remove the custom ad blocker rule(s) and the page will load as expected.