Fanta is role played by Meerkats123
Fanta (VLF043 was into the Lazuli in February 2001. Her mother was Buttercup, a subordnate f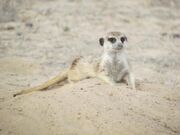 emale. Her father was  Vulcan, a Commandos rover. Fanta had two litter mates: Shuka (VLM044) and Tuxedo (VLM045). Her aunt Sahara and uncle Subaru were the dominant pair at the time. Sahara could have chosen to kill the pups. However, she allowed the pups to live.  Fanta and her litter mates survived their first month and started to forage with the adults. However, Shuka was taken by a predator along with another pup named Freeda soon after. Fanta and Tuxedo were able to survive and quickly learned how to care for themselves. Fanta and her brother and her brother survived to adulthood. However, Buttercup died during a burrow raid by the Whiskers soon after. Fanta is still avive today in the Lazuli.
Ad blocker interference detected!
Wikia is a free-to-use site that makes money from advertising. We have a modified experience for viewers using ad blockers

Wikia is not accessible if you've made further modifications. Remove the custom ad blocker rule(s) and the page will load as expected.