Gecko
is role played by
Meerkats123
.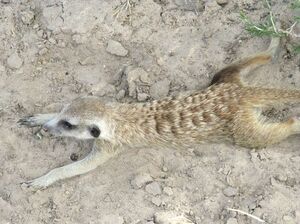 Gecko(VZZM026) was born in a Zappa splinter group. on Augest 1, 2000. His mother was Emo, the group's only adult female in the splinter group. His father was Hades, a Commando rover. His litter-mates were his one brother Gizmo(VZZM025) and one sister Gypsy(VZZF027). With only a few adults the splinter group struggled to care for all three pups. The splinter group ran into the Commandos and were forced to leave their bolt hole for another. Gecko was accidently left behind in another bolt hole and without any of the adult around to care for him, Gecko chances at survived were slim.
Commandos
Edit
Gecko might have had to face a cold Kalahari night if It wasn't forhis father, Hades, who found him by chance, not knowing he had saved his own son. The dominant female Libitina accepted him into the Commandos Mob. Gecko was cared by the Commandos and survived. With the help of the Commandos' females, Gecko learned the skills he needed to care for himself. It wasn't long before he reached adulthood. Gecko lost his father, Hades in a burrow raid Gecko is still in the Commandos today.
Ad blocker interference detected!
Wikia is a free-to-use site that makes money from advertising. We have a modified experience for viewers using ad blockers

Wikia is not accessible if you've made further modifications. Remove the custom ad blocker rule(s) and the page will load as expected.