Welcome to the Wiki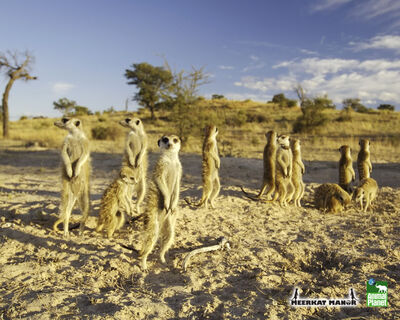 Welcome to the Meerkat Role Play wiki. We're a collaborative community website about role playing as meerkats that anyone, including you, can join in on the fun. Click the edit button at the top of any page to get started! Or create a new meerkat page. See pups of chech mob and name one as your own. Then start role playing in mob life!
Rules for Role Play
To keep things fair and fun please follow the rules. There are five playible meerkat mobs you can join. To join the role play, first you must ask Sir Rock for an availale meerkat in the mob you wish to join, in adult meerkats or pups, and fill in a name and wait for a response. Some meerkats have been promise to other users, so if the meerkat you pick was promised out, you will be given another meerkat. If you select a pups, your pup were born in a litter with certain litter-mates, see History or Mother's pages for Birthday and litter-mates, and your pup can do only certant things a pup can do. Adult meerkats can do more, take sentry, help care for the pups, babysiter, go roving or be evicted and try to rejoin the group. You can only role play as your meerkat. For full rules please read Role Play Rulse before getting started. Have fun and play fair thank you. Your Bureaucrat and Administrator of MRP Sir Rock.
Meerkat Mobs
Whiskers Mob's role play takes place at Manor Territory.
Lazuli Mob's role play takes place at Estate Territory.
Commandos Mob's role play takes place at Kingdom Territory.
Zappa Mob's role play takes place at Empire Territory.
Aztecs Mob's role play takes place at Region Territory.
Latest activity