Phobos is roleplayed by TheLold.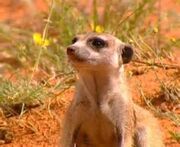 Commandos
Edit
Phobos(VCD045) was born in the Commandos on July 31, 2001. His mother was Artemis and his father was Nero, a rover. Phobos' litter-mates were two sisters named Ahti(VCDF044) and VCDF0046 and one brother named Gray .  In August 2001, he was trapped alongside his litter-mates in a burrow raid made by the Zappas but thanks to Hades all four pups survived. Sadly, Hades disappeared soon after and Ahti also disappeared in October 2001. He followed his brother in late February and was attacked badly by him. He returned the favor by biting Gray's leg. That starts a rivalry between the brothers. Phobos is still alive in the Commandos.
Ad blocker interference detected!
Wikia is a free-to-use site that makes money from advertising. We have a modified experience for viewers using ad blockers

Wikia is not accessible if you've made further modifications. Remove the custom ad blocker rule(s) and the page will load as expected.